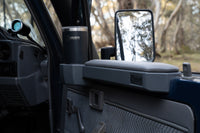 Australian Designed Durability
The One Stone Armrest is the next addition to your Toyota 70 Series LandCruiser. With comfort and practicality in mind, the armrest + cupholder will blend seamlessly into the interior of your LandCruiser. 

Made with the most durable materials, the One Stone Armrest locks securely into the window well of the your driver or passenger door, fastened with magnets to prevent rattles. 
Seamless Design

A practical solution, a premium design
Seamless Design
A practical solution, a premium design